Why choose Hyundai Genuine Parts?
12 month warranty.
Our Genuine Parts are backed for a full year when installed at a Hyundai Service Centre.
Designed for your car.
All of our Genuine Parts are designed, engineered and manufactured specifically for your Hyundai.
Premium quality is our standard.
Unlike imitation parts, Genuine Parts are made and tested to our high standards to ensure performance and safety.
Maximise resale value.
Servicing your Hyundai with us means it will only be fitted with authentic, high-quality parts, helping to retain its value for longer.
Our range of Genuine Parts.
Hyundai Genuine Batteries.[H1]
Life is busy and the last thing you want to think about is your car battery. But with a flat battery being the most common cause of a vehicle breakdown, it makes sense to check your battery regularly. And when it's time for replacement, fit your Hyundai with a Hyundai Genuine Battery.
Hyundai Genuine Tyres.[H2]
Every time you hit the road, whether solo or with your family, your tyres play an important part in keeping you safe. To give you all of this, and more, we created the new Hyndai Genuine Tyre Program partnership with Kumho - one of Australia's most popular tyres, bringing you innovation and quality.
Hyundai Genuine Oil and Lubricants.[H3]
Partnering with Caltex, Hyundai Genuine Oil and Lubricants have been developed to meet the technical specifications of oyur Hyundai vehicle and the logbook recommend service intervals. Belnded with high quality base oils and additives, Hyundai Genuine Oil and Lubricants are engineered for peak vehicle performance and efficiency.
Experience the quality.
By servicing with a Hyundai Service Centre you can be confident that you're getting the best quality parts for your vehicle that are backed by our 12 month warranty.[H3]
Non-genuine parts rarely meet the same standards and may jeopardise the function of safety features built into your Hyundai, leading to more repairs and in some cases, can affect your Hyundai warranty.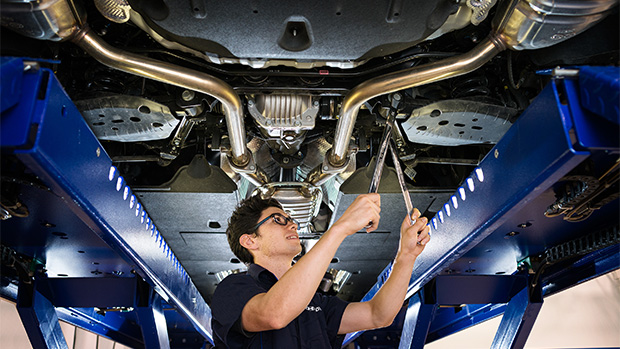 Harrison Hyundai Contact Details